ABC NO RIO GALA & BENEFIT AUCTION
http://www.abcnorio.org/benefit2008/index.html
WEDNESDAY, OCTOBER 22, 7 - 10 PM
ANGEL ORENSANZ FOUNDATION FOR THE ARTS
172 NORFOLK STREET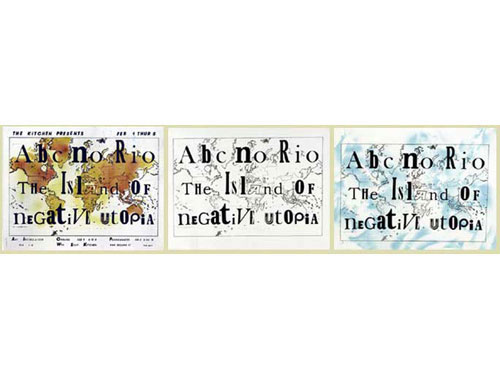 Beer, wine, buffet, burlesque performances, brilliant conversation and spirited bidding!
Proceeds from this benefit will go towards the ABC No Rio Building Fund.
Tickets
http://www.abcnorio.org/benefit2008/tickets.html
Ticket Order Form
http://www.abcnorio.org/benefit2008/images/abcnorio_auction_ticketorderf...
AUCTION
* Bullet Space, Kathe Burkhart, Michael Cataldi, Mel Chin, Maureen Connor, Martha Cooper, Linus Coraggio, Molly Crabapple, CRASH, Peggy Cyphers, Bill Daniel, Arnon Ben David, Mike Estabrook, Robert Flynt, Chitra Ganesh, Brian George, Judy Glantzman, Mike Glier, Robert Goldman (Bobby G.), Mimi Gross, Julie Hair, Jacob Hashimoto, Geoffrey Hendricks, International Graffiti Times, Vandana Jain, Fawad Khan, Barney Kulok, Lady Pink, Anne Arden McDonald, Joseph Nechvatal, Shirin Neshat, Nils Norman, Claes Oldenburg, Alice O'Malley, Tom Otterness, Trevor Paglen, Francis Palazzolo, Anton Perich, Judy Pfaff, Kembra Pfahler, James Romberger, Christy Rupp, Kelly Savage, Kristen Schiele, David Schmidlapp, Andres Serrano, Greg Sholette, Kiki Smith, Chris Stain, Swoon, Seth Tobocman, Marguerite Van Cook, Anton van Dalen, Tom Warren and Lawrence Weiner.
* Introducing an edition for ABC No Rio by Gregory Green.
For auction preview: www.abcnorio.org/benefit2008/preview.html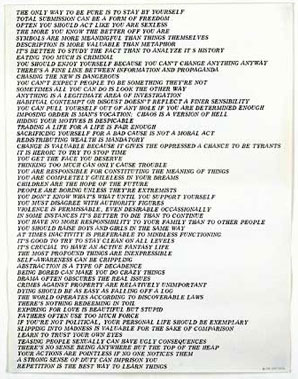 BENEFIT COMMITTEE
* Stanley Aronowitz, Julie Ault, Michael Bank, Melissa Bent, Phong Bui, Garrison Buxton, Alexander Campos, Paul Castrucci, Peter Cramer, Simon Critchley, Ray Cross, Harvey Epstein & Anita Elliot, Jim Fleming & Lewanne Jones, Barry Frier & Stefani Mar, Lia Gangitano, Carl George, Jonathan Greene, Dara Greenwald, Phil Hartman, C. Sean Horton, Cheryl Kaminsky, David Kiehl, Jane Kim, Allegra LaViola, Brooke Lehman, Jonathan LeVine, Josh MacPhee, Timothy Malyk, Mirabelle Marden, Carlo McCormick & Tessa Hughes-Freeland, Barbara Moore, Rebecca Moore, Margery Newman, Wendy Olsoff, Al Orensanz, Christian Parenti, Liutauras Psibilskis, Karen Ranucci & Michael Ratner, Neil Rosenstein, Alix Sloan, Jeff Stark, Sara Valentine, Jack Waters, and Martha Wilson.
MASTER OF CEREMONIES
* Reverend Jen
PERFORMANCE
* Hungry March Band
* Aurora Boob Realis
* Boobie von Trapp
* Jezebel Express
SPONSORS
* Asahi
* ALIAS
* Two Boots
* saké2me
* Honest Beverages
* Doughnut Plant
BENEFIT STEERING COMMITTEE
* Michael Cataldi
* Marisa Day
* Steven Englander
* Christy Fisher
* Christine Halvorson
* Brian George
* Vandana Jain
* Victoria Law
* Jessica Ryan
* Kelly Savage
* James Trimarco
BENEFIT COORDINATOR
* Joyce Manalo
ABC NO RIO BOARD OF DIRECTORS
* Wendy Brawer
* Miranda Edison
* Eric Goldhagen
* Julie Hair
* Christine Halvorson
* Amanda Hickman
* Susan Howard
* Rick Jungers
* Alan Moore
* David Powell
* Howie Seligman
ABC NO RIO DIRECTOR
* Steven Englander
---------------------------------------------------
---------------------------------------------------
ABC No Rio is a 501(c)(3) organization. At CONFIDANT level and above a portion of your contribution to ABC No Rio's 2008 Benefit is tax-deductible. For CONFIDANT and COMRADE levels that amount is $200. For CONFEDERATE and CONSPIRATOR levels that amount is $400.
ABC No Rio || 156 Rivington Street || NYC || 10002 || 212.254.3697 || www.abcnorio.org