January 1, 2009. On reading Erica Orden's "Collecting Smoke" text in New York Magazine examining MoMA's upcoming two year performance art initiative, which includes a Marina Abramovic retrospective and the acquisition of Tino Sehgal's The Kiss, all under the direction of the very enterprising Klaus Biesenbach, I felt compelled to jot down a couple of thoughts. A version of the text below also appears as a comment under my pseudonym on the New York Magazine site.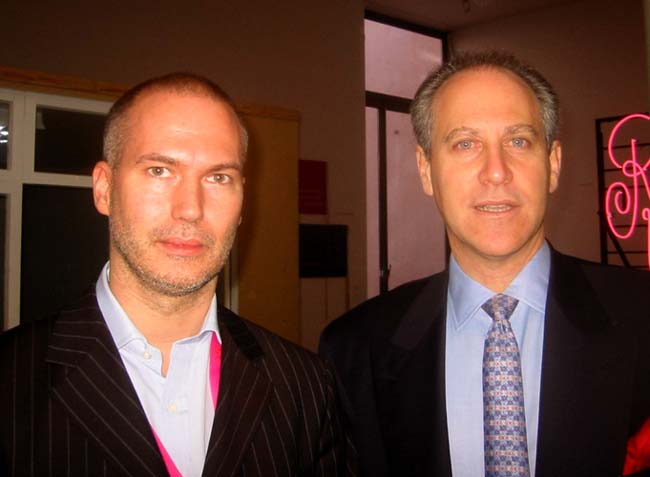 Klaus Biesenbach and Glenn Lowry, 2004
Tino Sehgal was selected for the German pavilion at the 2005 Venice Biennale, was shortlisted for the Hugo Boss Prize, and has been a darling of a small but influential coterie of international jet setting curators of which Biesenbach counts himself a particularly ambitious member. So it is not surprising to see MoMA finally buy one of the "constructed situations" pieces, following the lead of the Tate and the Walker. To paraphrase another Sehgal work, "This Is Not New", especially for a curator eager to establish his bonafides over an entire realm of artmaking.
Kathy Halbreich, longtime director of the Walker, has come to MoMA as Associate Director, but particularly to oversee contemporary. It will be interesting to see how she and Biesenbach rub shoulders, share power and responsibilities and juggle egos. This performance initiative is possibly his art world realpolitik of closing the Sehgal gap with Halbreich, so that she cannot fully "make it hers". Curators are a territorial lot, very jealous of their prerogatives and precedents. I just love the mention of those endless, all night "private workshops", undoubtedly presided over by Biesenbach in full institutional regalia, as a thinly disguised and piss elegant power grab. Of course he will happily tell us that "People just do not leave," so enthused are they with HIS project. What would the art world be without its divas?
It is part of an ever burgeoning career which was solidified in October 2006 when a new department, "Media", was created at MoMA with him as its Chief Curator, particularly to "focus on contemporary art that reflects recent and current artistic practice, including moving image installations, exhibitions, and presentations of sound- and time-based works that are made for and presented in a gallery setting."
As far as "acquiring this kind of art - and doing it soon. After all, the first generation of performance artists appeared 40 years ago", one of the challenges of acquiring performance based work is the presence of the physical body of the artist. Paintings and sculptures, as objects, can easily outlive their creators. Performance is ephemeral, and while it can be captured in video and photography (except for Sehgal, who does not allow any photo documentation, as well as no catalog, written receipts or instructions), the artists themselves are not getting any younger. Including a retrospective of Marina Abramovic is just about axiomatic in this regard. I might have preferred some attention to Carolee Schneemann and Hannah Wilke.
Here is an incidental posting on Sehgal from months ago, which indicates how his art cozies right up to institutional regard and reward, and in fact seems cleverly designed for just this purpose:
http://post.thing.net/node/2254
http://stevenkaplannewyork.blogspot.com/2008/08/on-tino-sehgal.html