ABC No Rio Gala & Benefit Auction - Building Fund 2011
Tuesday May 3, 2011 / 7:00 PM - 10:00 PM
Hosted by Allegra LaViola Gallery
179 East Broadway, Lower East Side
For over 30 years, ABC No Rio has been a vibrant part of New York City's radical cultural scene. It is a welcoming venue for emerging artists, internationally known for its commitment to a socially engaged culture. No Rio has meant many things to many people, but its mission remains constant: a commitment to political and social engagement, to an expanded vision of possibility for the lives of our neighborhoods, cities, and societies, to a place where people share resources and ideas to impact society, culture, and community. This benefit will allow this tradition to continue and flourish.
Festivities will include beer, wine, buffet, guest DJ's, brilliant conversation and spirited bidding throughout the evening. Local restaurants Alias, Two Boots and Roots & Vines will be providing delicious finger food that can be washed down with beer courtesy of Brooklyn Brewery and wine from Communal Brands. Ticket prices for the event will begin at $50.
To purchase tickets, please click here.
THIS WILL BE ABC NO RIO'S LAST BENEFIT GALA BEFORE NEW CONSTRUCTION.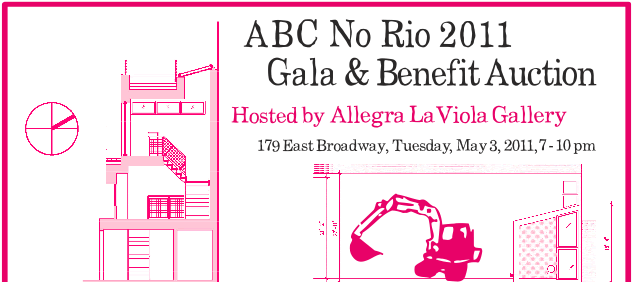 Proceeds from this event will benefit ABC No Rio's Building Fund. To date, No Rio has raised over $4 million of the $5.25 million needed to build its new facility. ABC No Rio is planning the construction of a bold, new building for its facilities, resources and programs, and raising the funds needed to realize its ambitious vision. Construction is anticipated to begin before the end of the year.
Artists in Silent Auction (list in formation)
John Ahearn, Joey Archuleta, Bullet Space (Your House is Mine), Kathe Burkhart, Andrea Callard, Michael Cataldi, Molly Crabapple, CRASH, Bill Daniel, Willem de Kooning, Jade Doskow, Stefan Eins, Mike Estabrook, Brian George, Ilona Granet, Hans Haacke, Julie Hair, Julie Harrison, Clarity Haynes, Geoffrey Hendricks, Becky Howland, Robert Indiana, Vandana Jain, Lisa Kahane, Hannes Kater, Fawad Khan, Fred Krughoff, Barney Kulok, Peter Kuper, Leslie Lowe, Anne Arden McDonald, Josh MacPhee, Ryan McGinness, Judith Modrak, Joel Morrison, James Nares, Joseph Nechvatal, Nils Norman, Claes Oldenburg, Alice O'Malley, Yoko Ono, Tom Otterness, Trevor Paglen, Graham Parker, Anton Perich, Kembra Pfahler, Virge Piersol, Judy Rifka, Jennifer Riley, Walter Robinson, Gary Rough, Christy Rupp, Kelly Savage, David Schmidlapp, Jordan Seiler, Ward Shelley, Loren Siems, Wolfgang Staehle, Chris Stain, Swoon, T-Lo, Seth Tobocman, Anton van Dalen, Tom Warren, and Lawrence Weiner.
To view auction preview, please click here.
To celebrate the collaborative spirit on which ABC No Rio was founded, a section within the silent auction will include work by over 20 members of the artist group Colab.
Works by John Ahearn, Andrea Callard, Stefan Eins, Ilona Granet, Julie Harrison, Rebecca Howland, Lisa Kahane, Fred Krughoff, James Nares, Joseph Nechvatal, Tom Otterness, Virge Piersol, Judy Rifka, Walter Robinson, Christy Rupp, Wolfgang Staehle, Anton van Dalen, Tom Warren, and an editioned collection of newsprint posters donated by Alan Moore will be available for bidding. ABC No Rio was founded by artists associated with Colab (Collaborative Projects) following the seminal Real Estate Show in 1980.
Additionally, the silent auction will include works by Kathe Burkhart, CRASH, Willem de Kooning, Hans Haacke, Robert Indiana, Pia Lindman, Josh MacPhee, Ryan McGinness, Claes Oldenburg, Yoko Ono, Kembra Pfahler, Chris Stain, Swoon, Lawrence Weiner and many others.
Numerous local galleries and arts projects are providing support, such as Allegra LaViola Gallery, Bullet Space, numberthirtyfive, Participant Inc., Sloan Fine Art, and Woodward Gallery. Other noteworthy committee members include the principals of Center for Books Arts, Franklin Furnace, Gallery 98 and Not An Alternative.
ABC No Rio Benefit Committee (list in formation)
Joseph Brasile, Jack Bratich, Phong Bui, Alexander Campos, Peter Cramer, Jody Culkin, Dispatch, Beka Economopoulos & Jason Jones, Coleen Fitzgibbon, Barry Frier & Stefani Mar, Lisa Fromartz, Lia Gangitano, Carl George, Dara Greenwald, Artemio Guerra & Bucky Cox, Phil Hartman, Cara Hoffman, Barry Hoggard & James Wagner, Ronald Hunnings, Lewanne Jones & Jim Fleming, Anna Kustera, Allegra LaViola, Brooke Lehman, Marc Miller, Margery Newman, Christina Ray, Cindy Rucker, Emily Rubin, Ray Sage, Erin Sickler, Alix Sloan, George Spencer, Jeff Stark, Sur Rodney Sur, Sara Valentine, Jack Waters, Bruce Weber & Joanne Pagano Weber, Martha Wilson, and Kristine & John Woodward.
Guest DJs (list in formation):
Anna Kustera, Doug McClemont, and Kembra Pfahler
Sponsors (list in formation)
Brooklyn Brewery, Alias, Two Boots, Communal Brands, Roots & Vines, Doughnut Plant.






Origami Design by Julie McCabe
BENEFIT STEERING COMMITTEE
Jeanne Brasile, Michael Cataldi, Brian George, Christine Halvorson, Vandana Jain, Kelly Savage, Loren Siems, Cristina Wood
BENEFIT COORDINATOR
Joyce Manalo
ABC NO RIO BOARD OF DIRECTORS
Wendy Brawer, Heidi Chua, Eric Goldhagen, Julie Hair, Christine Halvorson, Amanda Hickman, Susan Howard, Rick Jungers, Alan Moore, David Powell, Howie Seligman
ABC NO RIO DIRECTOR
Steven Englander
ABC No Rio
156 Rivington Street
NYC 10002
212.254.3697
www.abcnorio.org