Adarsh Alphons Projects announces
Jackpot! We're ALL IN for the kids
its Inaugural Annual Gala, honoring
Anita Durst, founder of Chashama, Inc.
at The Hole
312 Bowery (between Houston and Bleecker)
New York, NY 10012
Monday, October 3rd, 2011, 6:30-9:30 pm
(post-Gala after party to take place at Gemma in The Bowery Hotel, two blocks away at 335 Bowery)
Tickets: http://www.adarshalphonsprojects.org/tickets.html
Be among the first to enjoy this year's visionary displays by aspiring artists at ADARSH ALPHONS PROJECTS and visit one of New York's most exciting galleries, THE HOLE. Your generous donation ensures an exciting future by inspiring young minds at Adarsh Alphons Projects. View a full spectrum of paintings and drawings that were made this summer. Take part in the must-attend event of the year, support the community, and enjoy a magical evening of art, entertainment, game, food, and wine.
Anita Durst, Founder and Artistic Director of Chashama, Inc., is a winner for her magnificent contributions in helping artists realize their voice and their visions. The benefit honors her for her cultural and philanthropic legacy in New York City.
This event brings together Adarsh Alphons Projects, a new Harlem-based and tuition-free visual arts educational non-profit for children and youth, and The Hole (owned by Kathy Grayson, former Director of Deitch Projects), one of New York's most ground-breaking contemporary art galleries in New York.
In this momentous partnership, the visionary displays of paintings and drawings by young aspiring artists (ages 11-17) made this summer at the Adarsh Alphons Projects, will hang alongside the renowned contemporary work of Evan Gruzis.
The Inaugural Gala is AAP's first formal fundraiser. Opened just over a year ago in Harlem, the AAP has served over one hundred students with minimum resources, and has exhibited student work in commercial galleries, where students receive 100% of the sales proceeds.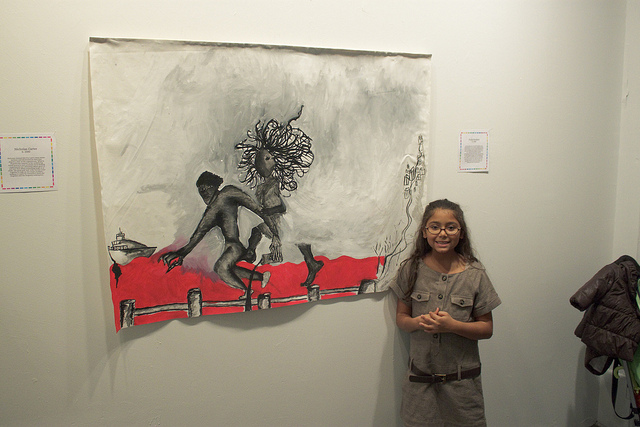 Live auction with Senior Specialist and Auctioneer of artnet, Brent Lewis, and featuring works by Carla Gannis, Heide Hatry, Lee Wells, Ridley Howard, Max Razdow, Emily Noelle Lambert, Frank Webster, Grace Roselli, Michelle Basora and Liz Insogna. Students from AAP will create a live mural on-site to be auctioned off at the end of the night.
For images of the artists' work, and for information on other auction offerings, including private studio tours, tickets to Jazz at Lincoln Center, plus fashion and jewelry items, please visit http://bit.ly/ntZTjH
Aiming to fill the void of public school arts education in New York City, while radically changing the way youth learn and create art, AAP is based on the premise that everyone is inherently a builder and that people are driven by their desire to realize a vision. They provide a tuition-free environment to instruct and explore the technical and critical aspects of the visual arts, while developing students professionally as practicing artists, and showing their work to a wide audience.
AAP proudly acknowledges its Inaugural Annual Gala corporate sponsors Durst Organization, The Hole, Dedegumo and Celadon Financial Group.
Institutional Support for AAP's programs provided by The Shelley & Donald Rubin Foundation, The Durst Family Foundation (administered by the Rockefeller Philanthropy Advisors) and Levitt Foundation.
Supporting Sponsors: Barielle Cosmetics, Jazz at Lincoln Center, American Museum of Natural History, The City Firm and Relationships Are Priceless.
Power Ice is a lead sponsor of this event. Adarsh Alphons Projects proudly acknowledges its major corporate partners: SparkplugPR, PALO, Scratch Academy.
Media Partners: CNN, New York 1 News and artnet
AAP is grateful to the following individuals for their pioneering support and commitment: Anita Durst, Donald and Shelley Rubin, Blondel Pinnock, Darius Walker, Juan Carlos Zapata, Rev. Vernon Williams, Jamie Johnson, Asya Geisberg, Jody Prusan, Michael Clarke, Grimanesa Amoros, Kathy Grayson, Derrick B. Harden, Laura O'Reilly, Leah Abraham, Gordon Tapper and Katarina Morhacova.
AAP is indebted to its wonderful Host Committee: Betina Bethlem, Jennifer Krantz, Mae Bagai, Kristin Nelson, Grace Aneiza Ali, Adam Okrasinski, Michael D'Amelio, Feroz Khosla, Joe Puthenveetil, Anita Hossain, Judy Chen, April Hunt and Elizabeth Insognia.
More than 150 guests are expected to attend including Darius Walker (CNN Bureau Chief NY), Paul Tarr (Assistant Attorney General NY), Danny Simmons (renowned artist, brother of Russell Simmons), Roberto Clemente, Jr. (Philanthropist, son of late baseball player Robert Clemente), Donald and Shelly Rubin (Rubin Museum), Emily Ford and Harold Ford, Jr. (former Congressman from Tennessee) and Amir Dossal (Chairman, GPF, United Nations), among others.
For more information:
Betina Bethlem 973-699-3867 betina@adarshalphonsprojects.org