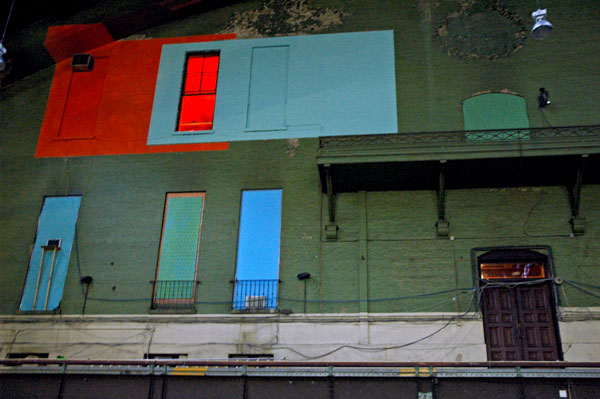 With so little painting hung at the Whitney, it would have been a more radical gesture, and not really that much of a stretch, for the curators to have gone for broke and selected none at all. Examining what was finally chosen and how it is presented within the show might prove instructive, and not just on the changing status of painting in the 21st century, but also regarding the assertion and abdication of curatorial will.
In the current Biennial, painting seems to be handled with kid gloves, approached like a "viral" entity, quarantined from the primary form of the exhibition (installation), or else treated as installation art in its own right by being sequestered into individual, private rooms. Is this to protect other media from the "infection" of painting? or is it a belated effort to isolate and hopefully rekindle the creative spark of the medium, to counteract the "death of painting" that has been proclaimed so frequently over the last thirty years?
Note the separate rooms for Karen Kilimnik's chandelier-centered little girlie fantasia, Joe Bradley's bratty, slacker takes on Ellsworth Kelly,
and the isolation of Mary Heilmann's wall of small paintings, right off the second floor elevators, but hung low and interacting with nothing else.
Ditto Kembra Pfahler's ass prints housed in their own baronial hall at the Armory, two rows of derriere-pometries on easels leading to a Karen Black fright doll; and Ellen Harvey's perception device of framed paintings on the wall viewed behind their cut outs on a mirrored lightbox at the museum, and her drawing alcove at the Armory, each spatially autonomous.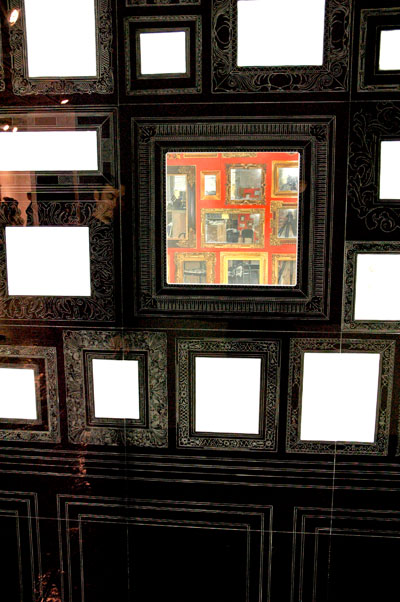 Most tellingly, Lisa Sigal's discrete subdivision of collaged, distressed, painted construction materials and detritus have their own cubicle at the museum, while at the Armory her piebald swatches of paint climb up the enormous Women's Balcony facade of the Drill Hall, set apart in the great void while still in plain if distant sight.
Of those paintings allowed to circulate in general population, Robert Bechtle's pristine tableaux feel like refugees from an entirely different exhibition, a total anomaly, yet they find themselves unceremoniously and uncomfortably wedged between the constructivist hegemonies of Ry Rocklen and Phoebe Washburn. Bechtle's washed out, photo realist streetscapes have always contained an uneasy, quizzical sense of place, full of (if you will) existential dread, but this is the first time I felt this unease imposed on his canvases from without, by the sheer inappropriateness of their exhibition context.
At least Gardar Eide Einarsson's nihilistic, oversized abstraction of a civil defense sign finds formal rhyme in his adjacent lightbulb-X sculpture, a bit of self referential call and response. His painting relates not just to the rest of his work, but also to the central "Home Depot" aesthetic of the Biennial.
Olivier Mosset's two huge monochrome canvases at the museum, and his grid of nine blank replacements of military portraits at the Armory, constitute their own special case, deriving from his unique history as the M of the Paris-based BMPT group of the mid-1960s (also including Daniel Buren, Michel Parmentier and Niele Toroni) and their advancement of a mass produced, repetitive, generic abstraction. Mosset himself is a poster boy for the expanded jurisdiction of the Biennial, for that new hybrid, the international "American" artist. Transplanted first to NY and thence to the American Southwest, his conflation of hip Euro/Swiss post-minimalism with a ZZ Top renegade biker ethos is confirmed by his many collaborations with a new generation of artists.
There is, finally, Cheney Thompson, who uses painted elements in his (re)constructions and cannibalizations from previously exhibited work. Which makes ten painters at most, even when they are most generously and inclusively defined, out of a total of 81 Biennial artists. It is a pittance.
Certainly one reason there are so few artists of any stripe in the 2008 edition (a more typical Biennial roster is over 100) is the sheer plethora of installations and separate rooms, which cubbyhole the floor plan and eat up lots of square (and cubic) footage. Even galleries which remain undivided, like the large fourth floor room housing Mosset, Rodney McMillan's black-tentacled wall hanging, and the installations of Ruben Ochoa and Heather Rowe, might have formerly supported the work of seven or eight painters.
But that was in a galaxy long ago and far away, when painting was the dominant medium, when the work was hung together in large spaces precisely so that it might visually interact, when paintings needed to be viewed comparatively, facing off against each other, creating dialog and a dialectic, a conversation considered essential for the development of art.
When was the last Biennial of this type? Perhaps the one Klaus Kertess put up in 1995? The drastic reduction of painting in the current exhibition, and its sheer physical isolation, would seem to indicate not so much fear of the medium (although there might be some of that) as scorn for its commonality and accessibility. The curators are essentially saying to young artists: "You just paint??!! Get with the new breed, baby!". But whether it is fear or scorn, one thing is obvious. The curators of the 2008 Whitney Biennial, for all their other virtues, do not know how to approach the art world's oldest medium, have little feeling for it, and hardly know what to do with a painting when confronted by one in the dark alley of art history.