I remain in New York, so the following post on Ai WeiWei's presence in Miami is derived from hearsay and images received on the web. But it seems this controversial and formidably conceptual artist has executed a potent double play.
At the Art Nova booth of Galerie Urs Meile at ABMB, he is represented by Light Cube, 2008, in his own words "a large cube made of chandeliers. It took 170,000 amber-colored beads to put it together. It looks like a minimal cube and brings to mind the work of Donald Judd or Dan Flavin".
The picture below, taken on site by Miami blogger Alesh Houdek, shows the artist being interviewed in front of his work.
And here is a computer rendering: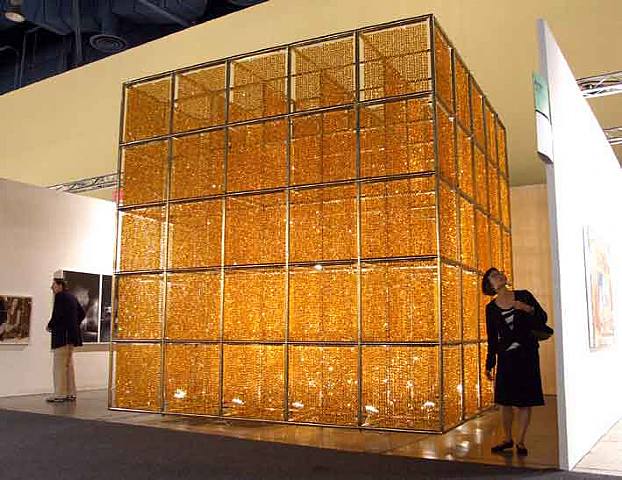 Ai also has an installation of public art on Watson Island, in the vicinity of the Port of Miami. Again in his own words,
Bubble, 2008, comprises one hundred high-quality blue ceramic porcelain bubbles spread over an area of nearly 2,000 feet. These are each about nineteen inches tall and measure nearly twenty-seven inches each on diagonal. They are installed nine feet apart from each another. The work is outdoors on Watson Island as part of the Island Gardens development near the shore; it reflects the weather and the waterfront.
A studio view of the work in progress: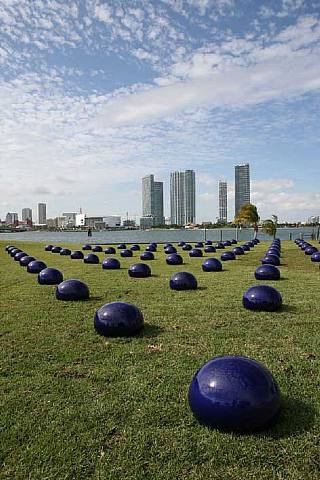 In the short article on Artforum.com from which these quotes are taken, Ai discusses the two year production process of getting the glazing right. He also discusses its iconic, cultural significance, indicating that
porcelain in China is the highest art form and it belongs to the imperial court. In fact, it's almost synonymous with Chinese culture. My work has always focused on how to bring older craftsmanship into a contemporary context and how to create or to use a new language. At the same time, I try to reinterpret artifacts from Chinese traditions and manipulate items from the country's everyday modern culture.
There is a Duchampian playfulness and subversive creativity in Ai's work, in that he uses objects from Chinese culture as "readymade" insertions into Western art practice and reference, seeming to relish both the cliches and the incongruities of juxtaposing two cultures that are often posed in theoretical opposition.
Ai says he is happy to be exhibiting work far from the professional art world, outdoors and in the public realm, where it can be enjoyed by families and children. Interacting with the urban environment seems to suit his underlying social concerns as an artist. But the work is being shown in the larger context of an art fair, and each of the hundred blue bubbles is reportedly for sale at $30,000.
The artist concludes his "500 Words" entry with a dig on the regime in Beijing, with whom he had an infamous falling out during the Summer Olympics.
Bubble might provoke a dialog about glamour and wealth in today's society and about what is happening in China. The Olympics...was the saddest thing that has happened in contemporary Chinese history. It was a huge performance by a propaganda machine and it had nothing to do with China or democracy.