Edward Ruscha's I Think I'll ...
From the London Times Online comes a list of artworks borrowed by the Obama White House from museums and galleries in the Washington D.C. littoral. Here's the text, with interspersed online images:
A cultural revolution is under way at the White House, where the Obamas are decorating their living quarters with modern and abstract artwork.
Out have gone traditional landscapes, portraits and still life paintings. In have come new pieces by contemporary African-American and Native American artists, with bold colours, odd shapes and squiggly lines.
Works by big names from the modern art world such as Jasper Johns and Mark Rothko rub shoulders with lesser-known artists such as Alma Thomas, an African-American abstract painter of the 1960s and 1970s.
One of the most striking – and apt, as Mr Obama wrestles with his Afghanistan policy – is Edward Ruscha's I Think I'll ..., a painting about indecision which superimposes phrases such as "I think I'll ..." and "maybe ... no" and "wait a minute" on top of a blood red sunset.

Alma Thomas, Watusi (Hard Edge)
Thomas's Watusi (Hard Edge) now hangs in the East Wing, where Michelle Obama has her offices. The acrylic on canvas, on loan from the Hirshhorn Museum and Sculpture Garden, shows a jumble of geometric shapes in bright reds, blues and greens.
Mrs Obama began selecting new artwork for the White House even before the inauguration and had the first pieces installed on Day One. Other pieces have arrived only in recent weeks. One Rothko piece entitled No. 17 (or) No. 15 remains in limbo while the Obamas decide what to do with it.
Working with the California decorator Michael Smith and William Allman, the White House curator, the Obamas have borrowed dozens of works from Washington museums and galleries, obeying the gallery rule to request items that were not already on display or wanted for a forthcoming exhibition.
Other recent first families hung a few modern pieces in their living quarters, but none approached the scope of the Obamas' "collection", Mr Allman said.
Mr Smith ferried lists back and forth between the White House and the galleries and museums as the Obamas narrowed down their choices.
"The First Lady had clear ideas about what they were aiming for," Mr Allman said. "They knew their tastes, and Michael Smith knew a lot about their tastes."

Edgar Degas, The Bow
The new artwork is on display only in the first family's living quarters and office areas. Any changes to the historic public spaces such as the Blue Room or the State Dining Room must be approved by the Committee for the Preservation of the White House, which has yet to meet under the Obama regime.
Could more modern artwork be headed for public spaces at the White House?
"Undoubtedly, this will be a subject that will be raised," Mr Allman said. There may be an opening, he added, to "collect something new and different and take a leap".

Richard Diebenkorn's Berkeley No. 52
The First Lady's office provided a list yesterday of dozens of on-loan artworks that now supplement the hundreds of more traditional works that dominate the permanent White House collection.
Richard Feigen, a private art dealer in New York, scanned the list and pronounced it "highly sophisticated".
"We're encouraged as far as the art world," Feigen said.
"We feel we have someone now in the White House who is saying that culture is an important part of this country."

Glenn Ligon, Black Like Me No. 2
Glenn Ligon's Black Like Me No. 2, a Hirshhorn loan now hanging in the first family's living quarters, is a "text painting" that reproduces words from the 1961 book Black Like Me, a non-fiction account by a white man who disguised himself as a black man and travelled through the South.
Ligon, a black artist from Brooklyn in New York, said in an interview that the painting's theme fitted with Mr Obama's efforts to create a dialogue between the races.
"It's a really important part of what he's about and symbolically what he's done," Ligon said, adding that it was "intensely flattering" for the Obamas to want his painting to hang in their private spaces.
Jeri Redcorn, a 69-year-old Native American artist from Norman, Oklahoma, said that she started jumping up and down and screaming when she found out last week that a piece of her pottery was on a bookshelf in the Oval Office.
Ms Redcorn, who uses the same pottery techniques that her Caddo ancestors relied on 500 years ago, said that the Obamas' artwork selections represented "a bridge, and a reaching out to other cultures".
"To have this artwork in the Oval Office is like a beautiful tribute to the way that my ancestors did things," she said.
The Obamas' selections include an impressive assortment of contemporary works from the National Gallery of Art, including Susan Rothenberg's Butterfly, which shows a horse with an X through it, and Richard Diebenkorn's Berkeley No. 52, an abstract oil on canvas in soft colors based on the landscape of Berkeley, California.
Harry Cooper, curator of modern and contemporary art at the National Gallery, said the Obama's selections were exciting the art world and should provide a significant boost to the arts in general.
"This is great art to live with," he said. "A lot of it is challenging. There are different styles: figurative art, abstract art. A lot of it is avant-garde."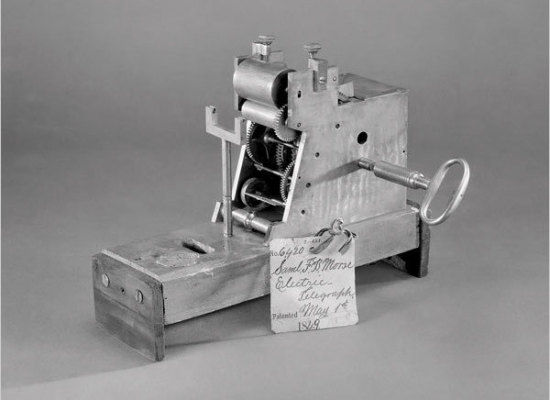 Samuel F.B. Morse, Electric Telegraph patent model
The Obamas' list of borrowed items also includes an intriguing trio of patent models on loan from the National Museum of American History, including models for Samuel Morse's 1849 telegraph register, a gear-cutting machine and a paddlewheel for a steamboat.
Peter Liebhold, curator of the museum's Work and Industry Division, said that the museum was surprised and pleased by the White House choices, especially because two of them were from minor inventors. All three models, he said, were "intrinsically beautiful. They say a lot about American ingenuity."
They're also small enough to fit on the president's bookshelves, Mr Allman said, and they make great conversation pieces.