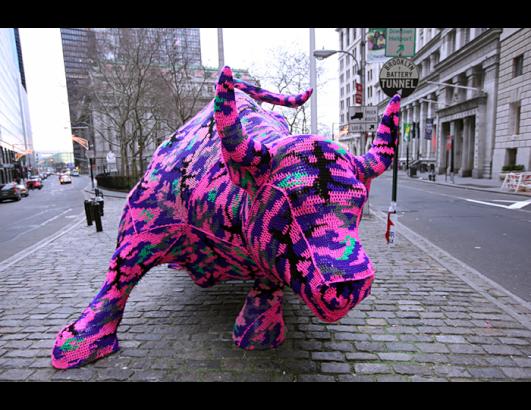 December 27, 2010. On Christmas night, in the freezing cold before the blizzard hit New York City, crochet artist Olek and her band of enablers managed to fully clothe the famous bronze statue of a charging bull that stands in Bowling Green Park in downtown Manhattan. A potent symbol of Wall Street capitalism, the bull wore its crocheted "cozy" for two hours before the caretaker of the small triangular park arrived and confiscated the work, cutting it up and depositing it in the garbage. But first this photo was taken.
With her obsessive strategy of multicolored yarn - purple, fuschia and orange predominate - sewn up in camouflage-like patterns, Olek seems to combine the Sherwin Williams Paint "cover the earth" mandate with a desire to be the Christo of crochet. She has previously fully dressed a bicycle, an automobile and various performers in her trademark coverings, in choreographed conceptual pieces executed on the streets of New York and Miami.
In her one person show this past fall at Christopher Henry Gallery at 127 Elizabeth Street in the Chinatown/LES neighborhood, she created a room-sized installation in which every domestic object, from bathtubs to tables and chairs to telephones to X-rated samplers with texts derived from Internet chat rooms, was given the full Olek treatment. The show was called "Knitting is for Pus****" (as in "Pussies").
Paper Magazine did a photo shoot during the run of the installation, which included live performers inhabiting the room, as described in a review taken from Verbicide:
The first thing one sees in the gallery is a miniature studio apartment — nay, an average-sized studio by New York standards — covered in garishly colored crochet that looks more Beetlejuice than "home sweet home." The entire structure is covered in crocheted yarn or plastic bags. Before entering, shoes must be removed or hospital booties donned to protect the crocheted floor. A crocheted pedestal tub is occupied by a model in a face-obscuring crocheted body stocking. The bathroom sink and toilet are crocheted. A television and phone are crocheted. There's a clothing rack (crocheted, even as skinny as it is) hung with crocheted clothing that looks like something the Dr. Seuss characters Thing 1 and Thing 2 might wear.

Knitting may be for pussies, but crochet is all about the pussy. The apartment walls and doors are covered in framed photographs of models nude but for some crocheted clothing and crocheted timestamped text messages Olek has received: "Ur pussy is my soul mate," "I just wanna turn u on as much as I can," and the profound, if debatable, "Soul is the part of you that sees a lap dance every time you close your eyes."
Here is Olek in action during the shoot, dressing a model:
The room installation reappeared in Miami during art fair week, as part of Christopher Henry's -Scope booth, with another car - a convertible - parked outside the tent on Midtown Boulevard and fully customized by crochet.
A feisty, bodacious blonde from Poland, Olek (nee Agata Oleksiak) is a self-styled "guerrilla" artist who is not at all shy in discussing her work and its intentions. From her recent press release entitled "Happy Bullish 2011":
Thank you for supporting me in the intense 2010!

I had a very successful solo show at Christopher Henry Gallery that introduced my work to an even bigger audience and brought me tons of press! I was lucky to start the year with a residency at AAI-LES and finish it with another one at Workspace, LMCC.

It was truly a year of guerrilla actions that opened a new path in my crocheted investigations. I started it with a bike and ended up with the Charging Bull as a Christmas gift to NYC and a tribute to the sculptor of the bull, Arturo di Modica, who in another guerrilla act, placed the bull on Wall Street in Christmas of 1987 as a symbol of the "strength and power of the American people" following the 1987 Stock Market crash.

This crocheted cover represents my best wishes to all of us. It will be a great, prosperous year with many wonderful surprises!!!
In another self-generated PR effort, she discusses her current internship at LMCC and her penchant for ingesting massive quantities of movies and vodka, while "aggressively re-weaving the world as she sees fit":
We have obviously not heard the last from her.