A related posting on this site.
from The Guardian: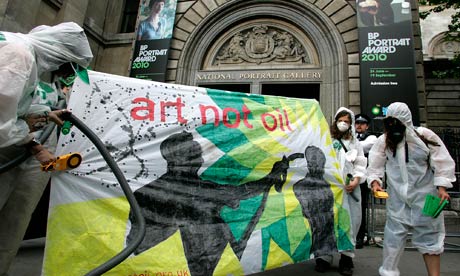 The summer season of events at Britain's most prestigious galleries and museums will be picketed by artists and green groups intent on portraying BP's arts sponsorship as a toxic brand.

Protests are planned next Monday by an eco-alliance styling itself "Good Crude Britannia" at Tate Britain's celebration of its 20-year association with the international oil conglomerate.

Climate change activists, artists and musicians opposed to the fossil fuel industry are determined to highlight BP's link to the arts in the context of the company's international embarrassment over the continuing oil spill in the Gulf of Mexico.