Saturday, December 1: Big Paintings
Made it to LaGuardia with time to spare, courtesy of a moving performance by Eric "to the airport" Payson. Adam Cvijanovic was already standing at Departures, draped in a long black leather coat, awaiting his dealer Becky Smith. We were on the same Jet Blue flight, beating the crush down to Art Basel, while also sidestepping New York's first seasonal ice storm, due to arrive in less than twenty four hours. Several days (and several score of Art Basel events) later, I would eventually view his panoramic landscape painting, huge, green and vegetal, which wrapped around the walls of the Bellwether booth at NADA and was one of the hits of
that particular fair.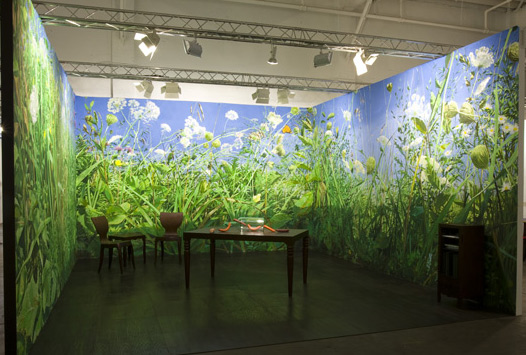 A stiff tailwind brought us into Ft. Lauderdale 45 minutes ahead of schedule. I judged this a good omen. It allowed me to spend some quality time in Wynwood before dropping off my luggage at my Miami apartment. I cruised by various tents still under construction (Scope, Photo Miami, AIPAD) and visited a number of local spaces which held "soft" openings that night for the local audience, in advance of the great influx.
Brook Dorsch hosted Breaking the Waves, a group exhibition curated by Nikki Beem, consisting of room sized works and installations by gallery artists, including Coming Attractions, a 71 foot wide black-and-white drawing, with markings derived from street corner signage and tabloid journalism, by New York octogenarian painter Arnold Mesches, currently teaching at the University of Florida in Gainesville. It had enormous presence, circumscribing three gallery walls. Here it is in a previous hanging from his show in Orlando:
I could not have imagined there would be anything larger in the show until I stepped outside. On the gallery's western façade was a 131 foot spray painted mural by Brandon Opalka. This tour de force of post graffitist abstraction, executed on evenings and weekends (as Opalka has a full time gig installing art in a local museum), required not only hundreds of cans of spray paint (some of which were displayed in a red "Radio Flyer" wagon), but also the wiring of outdoor floodlights, hacking through weeds and shrubs to provide back alley access, blowtorching through a metal fence and hanging a door. It was, in short, a prime example of Miami's workaday, can-do aesthetic, a distinct contrast to the city's infamous reputation for sybaritic hedonism. The painting, which will remain on view for several months after the fairs depart, is certainly worth a look. It is too large to be depicted in a single photograph, but thanks to Alesh Houdek of Critical Miami for trying.
M*A*S*H, a series of exhibitions produced by Michael Sellinger of Cottelston Advisors to coincide with major art fairs, took place this year in the offices of a drug rehab clinic in the Design District, further emphasizing its medically inflected title. The current M*A*S*H was devoted to The Expanded Painting Show, organized by local treasure Nina Arias and Paco Barragán, an independent curator from Madrid. The concept – that the prerogatives of painting can proceed through other media, with materials and dimensions beyond the simple laying of pigment upon canvas – was amply illustrated by selections from a NY-Miami-European axis of creators. It included locals such as Gavin Perry (with a black-on-black kaleidoscopic painting done in his signature automotive sprays, backed by patterned silver wallpaper), Gean Moreno (a free standing combine of hinged, room divider construction that conflated sculpture, painting and collage), plus works by David Rohn and Tao Rey, as well as New York imports Vargas Suárez Universal (several small scale constructivist works on paper), Tim White-Sobieski (a beguiling, multi channel video of flowing colors and shapes) and Angelo Filomeno (one of his famous embroideries on fabric).
It was a rain swept night, but this did not prevent a large turnout, including Onajide Shabaka from Miami Art Exchange, Robert Curcio and Michael Lyons Weir from New York, Sara Nightingale from East Hampton, and painter Beatriz Monteavaro, the wife of Mr. Perry.
Next up was Bernice Steinbaum, with an exhibition of spatially enhanced video installations by Peter Sarkisian that were decidedly meta-: questioning the uses and perceptions of the medium. For example, a video of whirring wheels, gears and bolts projected onto a pristinely engineered, molded plastic screen that essentially wrapped the image into a 3D surface. Or the video of a garage studio viewed from the overhead perspective of a ceiling light bulb, which switched on whenever the video actor appeared to hit it with a sledgehammer. These neo trompe l'oeil efforts were totally groovy, presenting wheels within wheels, conundra within conundra.
Sarkisian let me in on a small secret. His New York dealer, Paul Judelson of I-20 Gallery, had initially flown down to Miami as an observer, but had been offered a space at the last minute by Art Basel, an unusual bit of late tinkering by the super organized Swiss. Rumor had it that Galleria Continua had suddenly dropped out of the big fair, and I-20 was able to fill the void. When I spoke with Judelson in his Art Nova booth, I marveled at his ability to pull it all together at the last minute, when other dealers generally took weeks (if not months) to plan their agenda, organize shipping, etc. His matter of fact response: "Anyone can put a booth together in three days." Well, if I might say so, not just anyone. But Paul's a pro.
Sunday, December 2: Snitzer, Hollywood and the French
Up at first light. Barefoot, standing on the balcony. Sipping green tea. Rowers on Indian Creek. Sun dappling the bay. A dolphin breaks water. It's good to be in Miami.
I spent the morning unpacking, organizing the apartment, sunbathing, swimming, sending some e-mail, watching the Weather Channel coverage of the storm in the northeast. Then back to Wynwood for an unofficial preview of the Jose Bedia exhibition at Fredric Snitzer, which marked the gallery's 30th anniversary. Bedia was in good form, still exploring the role of artist as santero, and the religious implications of imagery in indigenous cultures. Paintings of African-inflected ancestral figures, dog/men with taut limbs and exaggerated shoulders (similar to his twin outdoor murals on 39th Street and NE 3rd Avenue, which guard the entrance to the Design District), were interspersed with shamanic sculptures.
Fred was not there, but I had a talk with gallery director Chris Miro, who informed me of the 30th anniversary pig roast scheduled for later that week, and of the studio tours (for Bedia, Robert Chambers, Naomi Fisher and others) he was organizing during Art Basel. He also provided my first hands-on encounter with Miami Contemporary Artists, which is as handsome and comprehensive a volume as art critic Elisa Turner (who wrote the foreword) had suggested some weeks earlier. The book is both love fest and graduation present for the local scene. With over 140 artists showcased, and with referenced work (and Turner's text) reaching back twenty years, it recalled a former Miami moment -- when galleries were still massed on Kane Concourse in Bal Harbour (Gloria Luria, Hokin, Gallery 99), when "Wynwood" was not yet a word in common parlance, when MOCA was barely an inkling in Bonnie Clearwater's mind. Still the book, while elegiac, also feels very current. There were publishing events scheduled all week: book signings, a panel discussion at the Convention Center, plus concurrent exhibitions (curated by Gean Moreno) at the Freedom Tower and at the Art Center on Lincoln Road.
A quick trip to the Design District brought me to the Moore Space to preview French Kissin' in the U.S.A., an exhibition of 18 "emerging" French artists with a title taken from the Blondie hit song. Silvia Karman Cubiñá, director of the space and curator of the show, was in the office with Rosa de la Cruz, collector, prime mover and eminence blanche of Miami. They were intently working on a text. In the main gallery, artists and assistants were taking a pizza break before continuing with the installation, still only partially complete.
I spoke with Brice Dellsperger, whose gender bending, plane of perception defying videos I have enjoyed since viewing his Body Double series at Team Gallery in New York in 2001. His piece at Moore, housed in its own room, dealt mordantly with fashionable suicides, as several blonde, winsome, wan characters slit their wrists in bathtubs lined with votive candles, atonal music played in the background, and the camera tilted counterclockwise, inducing a mild vertigo. I loved it. It brought to mind Godard's disclaimer when a critic accused him of making films filled with blood: "It's not blood, it's red." Dellsperger's "violence" is also obviously tinged with extreme artifice. Yet at the opening several days later, I heard someone describe the work as "disturbing".
I also spoke with Fulvia Carnevale, half of the Paris-based collective Claire Fontaine, who take their name from a popular brand of notebooks for schoolchildren. Turns out her partner, James Thornhill, could not be there, as he was denied entry into the U.S. on some immigration technicality. I initially met both some years ago at their opening at Reena Spaulings Gallery in New York's Lower East Side (itself another collective named for a fictional entity), and congratulated her on their inclusion in Unmonumental, the inaugural exhibition just unveiled at the "new" New Museum, which included several of their key ring assemblages hung with lock picker's tools and other vestiges of yegg-dom. At Moore Space, they were in the process of installing multiple piles of "books", editions of classics constructed from wooden blocks with printed jackets, which continued their strategy of subversion, their appropriation of the everyday, and their questioning of the forms of vested authority at a time of general political impotence.
Next up was a drive north to Hollywood, in Broward County, for the inauguration of Arts Park at Young Circle, which included a new visual arts pavilion designed by Margi Nothard. It contained studios, galleries and classrooms housed in several concrete wings surmounted by a cantilevered superstructure of painted metal beams, all enclosing a central courtyard. Still to be realized, in phase two of construction, will be an adjacent amphitheater and performing arts pavilion. The gallery show, organized by the busy Nina Arias and DonnaMarie Baptiste, contained work by local artists Francie Bishop Good and Michelle Weinberg, as well as architectural models of the project by Ms. Nothard.
At the nearby Art and Culture Center of Hollywood, there was an exhibition of paintings by Craig Kucia, who shows with the Kevin Bruk Gallery in Wynwood. It was organized by my old Florida buddy Jane Hart, who holds the curatorial reins while also continuing to produce her Lemon Sky Editions. Last year Bruk brought me to Kucia's Miami studio, where I viewed several large scale, metaphysically playful, expertly rendered magic realist paintings. Apparently many of these were part of the current show, which I never did get to see, as it was closed when I arrived for the Young Circle event. I was not able to return to Hollywood during the ensuing glut of events of Art Basel week.
My last stop brought me back to the French, a reception at Le Meridien hotel in Sunny Isles (a beach resort area near North Miami Beach and Aventura), which celebrated the appointment of Jerome Sans as curator of art projects for the international hotel chain, including that night's particular project, a book of fairy tales by Sam Samore entitled BetweentheSilence. The event incorporated a black and white video projection on the beach, a two level party (at poolside and on the esplanade), and an accompanying slide show of images of the French demimonde from the 50s and 60s, which in their grainy texture somehow recalled Samore's own work.
It was a decidedly Gallic event. Sans was there, of course, and many of the French Kissin' crowd, as well as gallerists and artists from Paris, Grita Insam from Vienna, Samore's New York dealers Chris D'Amelio and Lucien Terras, and Marc Spiegler, my "boss" at Artworld Salon and the incoming strategy and development director for Art Basel. Marc seemed preternaturally un-busy. I wanted to know his secret. Perhaps it's just the calm before the storm. Or perhaps it's his vegetarianism.
Monday, December 3: The Calm Before, Redux
Considering what was to come, the work week began softly, with a few small, choice events. Sheila Elias hosted the annual kickoff party in her huge North Miami studio, a short distance from the Museum of Contemporary Art. I had been invited in previous years, but this was my first viewing of her space. While working in many media, including installations of images hung on clothes lines (previously shown both in a laundromat off Lincoln Road and also outdoors, at The Yard at Casa Lin), Elias tends to favor photography and painting. Her work, generally figurative, excels at celebrating the human body in motion, capturing the energy of dance, of free fall, of sky diving, and of the body suspended in water, freed from the constraints of gravity and inertia.
I ran into Marivana and Emanuel Viscuso at the Elias studio. Sometimes I call them the "Viscusi". They are a brother and sister team from Milan (although the family has its origins in Sicily) who relocated to Miami years ago. He is active in local Italian events and organizes a yearly Sicilian film festival. She is a bold chanteuse, often performs at art events, and is the owner of the Art Temple, an on-again off-again art/performance space housed in a large former religious school and rectory complex in North Beach. We decamp to the home of William Berke in the nearby gated community of Keystone Point, for a show of neo-surrealist canvases by Chicago based painter Curt Frankenstein, a ninety year old native of Germany and Holocaust survivor. The show, and a video interview of the artist, were organized by Steven Berke, the son of the house, and would soon travel (during the actual days of Art Basel) to the lobbies of two luxury buildings in Miami Midtown, the Charter Club and Blue.
Then home for the evening, and with it the end of Part One. For those of you keeping score, none of the 24 visiting art fairs, nor the local museums, collections or galleries had yet opened.
More to come in Part Two. The Welcome Party at the Delano. The Peter Coffin and Tatiana Trouvé openings and the dinner at Perrotin. The French Kissin' vernissage. The ABMB Media Reception and First Look events at the Convention Center. ABMB Conversations kicked off by Marina Abramovic. The Whitney Museum party at the Sagamore. Book signings in the Raleigh Penthouse. Gallery parties at the Setai. The opening of Art Positions on the beach. The Iggy Pop gig. Utter physical exhaustion.