Saturday, December 1: Big Paintings
Made it to LaGuardia with time to spare, courtesy of a moving performance by Eric "to the airport" Payson. Adam Cvijanovic was already standing at Departures, draped in a long black leather coat, awaiting his dealer Becky Smith. We were on the same Jet Blue flight, beating the crush down to Art Basel, while also sidestepping New York's first seasonal ice storm, due to arrive in less than twenty four hours. Several days (and several score of Art Basel events) later, I would eventually view his panoramic landscape painting, huge, green and vegetal, which wrapped around the walls of the Bellwether booth at NADA and was one of the hits of
that particular fair.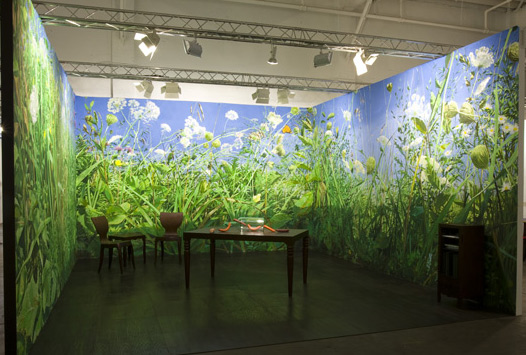 A stiff tailwind brought us into Ft. Lauderdale 45 minutes ahead of schedule. I judged this a good omen. It allowed me to spend some quality time in Wynwood before dropping off my luggage at my Miami apartment. I cruised by various tents still under construction (Scope, Photo Miami, AIPAD) and visited a number of local spaces which held "soft" openings that night for the local audience, in advance of the great influx.