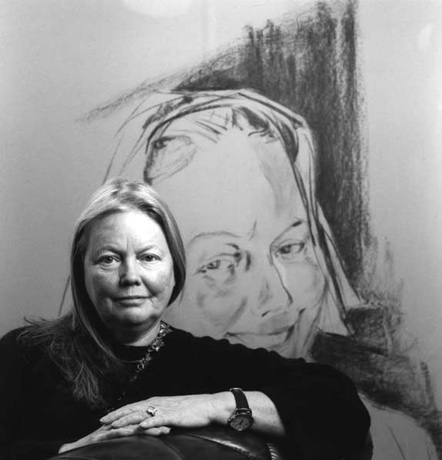 December 29, 2008. From Artforum.com via the New York Press comes word that the retirement of Alanna Heiss as director of the P.S. 1 Contemporary Art Center, rumored for months if not years, has finally been made official. A press release was issued today by the Museum of Modern Art, the behemoth that absorbed P.S. 1 almost a decade ago.
Heiss founded The Institute for Art and Urban Resources in 1971, with the mission of turning underutilized buildings in New York City into artist studios and exhibition spaces. In 1976 she established P.S. 1 (Project Space One) in a huge, abandoned schoolhouse in Long Island City, Queens. It was a time of experimentation, conceptualism, post-minimalism, installation, video and performance art, of scrappy alternative art spaces with modest economies and big dreams, a commercial hiatus after the glut of Pop had run its course but before the burgeoning Neo Expressionist movement added social cachet and market share to the scene. The art gods of the moment included Lawrence Weiner, Richard Nonas, Keith Sonnier, Dennis Oppenheim, Robert Smithson, Gordon Matta Clark, Vito Acconci, Joseph Kossuth, James Turrell, Richard Tuttle and Bruce Nauman.
For over thirty years, Heiss has been P.S. 1's only director and its very visible figurehead. An idiosyncratic visionary who often runs the space like a personal fiefdom, she is given to an uncompromising, by-the-seat-of-her-pants management style. This allows for bursts of curatorial and organizational brilliance, for early discoveries of emerging artists, collaborations with young curators and critics, and for challenging the paradigms of exhibition. Heiss has a mercurial temperament, an impulsive energy marked by sudden enthusiasms and antipathies. She has been described as "feisty" and "brassy". This can bring dramatic successes but also public failures, the built-in flip side of a highly experimental posture.
Much of the P.S. 1 staff is quite young, just a year or two out of school and dipping their toes into arts administration for the first time. There is a high percentage of turnover in personnel, particularly on the lower echelons, the idea of growing up in public being part and parcel of the nonprofit art world. Meetings can be informal, all night think tanks fueled by alcohol and a bohemian esprit de corps.
Fund raising was never given top priority, which often left P.S. 1 in the situation of biting off more than its bank balance could chew. Exhibitions might be undertaken without finishing funds in place. Financial brinkmanship became standard operating procedure. For example, a construction project in 1997, a gut renovation that greatly expanded the facility, adding a large elevator, sculpture garden, redesigned galleries and a reorientation of the entrance, was a brilliant tactical initiative. It allowed for more ambitious programming, including the Warm Up series of summer dance parties that featured world class DJs amid cutting edge outdoor architectural installations. But it was also a strategic blunder, depleting the Center's finances and making a bail out from MoMA or some other more established institution necessary.
When Heiss and Glenn Lowry of MoMA signed their letter of intent to merge the two institutions in 1999, everyone knew that changes would most likely follow. The question was how soon this would result in the hiring and firing of personnel. The degree to which it was actually a marriage of convenience between a cash poor but adventurous ingenue and a well heeled but stodgy Daddy Warbucks has been actively debated over the years. The synergistic advantages were fronted in the initial press release:
P.S.1 will gain access to MoMA's art collection, while MoMA's contemporary initiatives will be expanded and enhanced through engagement with P.S.1's innovative programming. While the two institutions' audiences overlap to some extent, there are also distinct elements that will broaden both audiences. Additionally, MoMA will work with P.S.1 to generate revenues to support P.S.1's programs, providing long-term financial stability.
Much was also made, in the early days of the merger, of the geographical proximity between MoMA and P.S. 1 - just two stops apart on the E/V subway line - and of the fact that MoMA needed to move temporarily to a nearby Queens location from 2002 to 2004 while their Taniguchi expansion was being built in midtown Manhattan.
But while the synergies were apparent, both geographical and institutional, a New York Magazine article on Heiss in May 2008 wondered whether she would soon be on the way out.
The deal with MoMA, which is often criticized as overly cautious about showing cutting-edge work, promised P.S. 1 financial stability, managerial guidance, loans of art, and exposure to a larger audience — while giving the Modern some much-needed contemporary cred...
The deal called for an initial seven-year phase in which MoMA would have limited influence on P.S. 1. In June of last year, when that period expired, the Modern assumed command of the center's financial management and gained the right to appoint its board members. A former MoMA finance official was installed as P.S. 1's first chief administrative officer. Heiss was effectively demoted to running the curatorial department, which some staffers took as a signal that P.S. 1 would inevitably be MoMA-fied...
Then, in a September article about Kathy Halbreich's appointment at MoMA [she was formerly director of the Walker Art Center in Minneapolis], the New York Times reported that Heiss was slated for retirement. It was the first public word she'd be leaving.
And now it's a done deal. A search committee will be convened in early 2009 to seek a replacement for Heiss. According to the MoMA press release, she will go on to launch Art International Radio (AIR), "an organization ... devoted to artistic, musical, performance, and experimental programs" that carries on from her earlier initiative, WPS1.org Art Radio.
What will be the future of P.S. 1 after Heiss? She has not been shy in calling herself "a genius administrator", while also stating that no one else could have really run the place. A moot point, as no one else has yet had the opportunity to try. It has always been a project, a building, a social and aesthetic initiative fashioned very specifically in her own image. But Heiss has many adherents in the arts community and beyond, certainly among the hundreds (perhaps thousands?) of artists who have been able to enjoy the creative liberties and spirit of unfettered experimentation that characterized P.S. 1 during its heyday. No less a personage than the granddaddy of L.A. media appropriation, John Baldessari, has said: "She is P.S. 1, and P.S. 1 is her. It doesn't seem like she could be replaced."