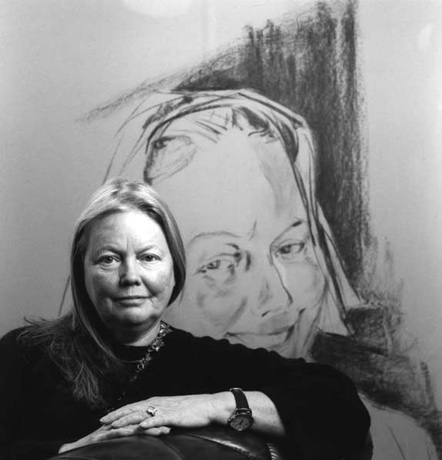 December 29, 2008. From Artforum.com via the New York Press comes word that the retirement of Alanna Heiss as director of the P.S. 1 Contemporary Art Center, rumored for months if not years, has finally been made official. A press release was issued today by the Museum of Modern Art, the behemoth that absorbed P.S. 1 almost a decade ago.
Heiss founded The Institute for Art and Urban Resources in 1971, with the mission of turning underutilized buildings in New York City into artist studios and exhibition spaces. In 1976 she established P.S. 1 (Project Space One) in a huge, abandoned schoolhouse in Long Island City, Queens. It was a time of experimentation, conceptualism, post-minimalism, installation, video and performance art, of scrappy alternative art spaces with modest economies and big dreams, a commercial hiatus after the glut of Pop had run its course but before the burgeoning Neo Expressionist movement added social cachet and market share to the scene. The art gods of the moment included Lawrence Weiner, Richard Nonas, Keith Sonnier, Dennis Oppenheim, Robert Smithson, Gordon Matta Clark, Vito Acconci, Joseph Kossuth, James Turrell, Richard Tuttle and Bruce Nauman.
For over thirty years, Heiss has been P.S. 1's only director and its very visible figurehead. An idiosyncratic visionary who often runs the space like a personal fiefdom, she is given to an uncompromising, by-the-seat-of-her-pants management style. This allows for bursts of curatorial and organizational brilliance, for early discoveries of emerging artists, collaborations with young curators and critics, and for challenging the paradigms of exhibition. Heiss has a mercurial temperament, an impulsive energy marked by sudden enthusiasms and antipathies. She has been described as "feisty" and "brassy". This can bring dramatic successes but also public failures, the built-in flip side of a highly experimental posture.