REGIFT
Swiss Institute, New York
curated by John Miller
February 18 - April 4, 2009
Barbara Bloom, Sophie Calle, Trisha Donnelly, Sam Durant, Maria Eichhorn, Sylvie Fleury, Felix Gonzalez-Torres, Dan Graham, Renée Green, Fabrice Gygi, Jamie Isenstein, Mike Kelley, Louise Lawler, Leigh Ledare, Sam Lewitt, Allan McCollum, Jeffrey Charles Henry Peacock, Mai-Thu Perret, Walter Robinson, Aura Rosenberg, Jim Shaw, Greg Parma Smith, John Waters, Lawrence Weiner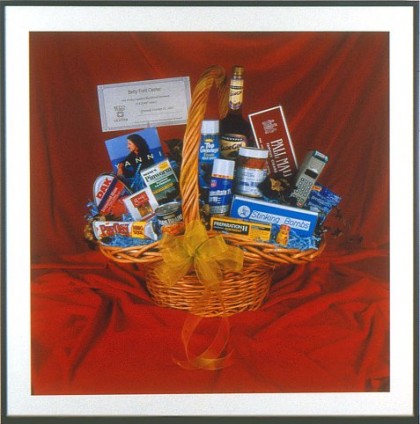 John Waters, Loser Gift Basket, 2006
February 25, 2009. Andrew Goldstein's snippet in New York magazine provides an interesting take on REGIFT, the exhibition organized by artist/curator/critic John Miller at Swiss Institute. But rather than viewing the show as a commentary on a potential new art world gift economy occasioned by the larger recession/depression, I rather thought REGIFT offered testimony to the social support system that Miller has built for himself. In effect, it acknowledges the many perks that he has enjoyed over the years as a darling of the art world - gifts of exhibitions, employment, travel, fellowships, etc. - and attempts to offer a commensurate recompense. Nothing is being given away here. What we have is standard careerist logrolling.
Hence the following entities were rewarded with the "gift" of inclusion: his longtime gallery, Metro Pictures (work by Mike Kelley, Jim Shaw, Louise Lawler, Walter Robinson); the university (Columbia) where he teaches (Sam Lewitt, Greg Parma Smith, and additional writers/contributors in a planned catalog); his wife (Aura Rosenberg); his fondness for the good old days of American Fine Arts/Pat Hearn (John Waters, Renee Green); his friendship with John Armleder (Sylvie Fleury, Mai-Thu Perret); a nod to a couple of grand old Conceptualists who have long histories with Swiss Institute (Lawrence Weiner, Dan Graham); a nod to a new one (Leigh Ledare).
Of course, many curated shows depend on a social network of repaid obligations for their selections. And Miller, a clever fellow, is quick to acknowledge these machinations in his press release: "Gift giving often invokes unspoken obligations, exacted in terms that are mutually understood but nonetheless not completely accountable: emotional, social, hierarchical and so on." But still, rather than REGIFT, this exhibition might have been more correctly entitled "The Big Payback". Pace James Brown.
The show is nothing if not eclectic, and approaches the cultural, social and aesthetic prerogatives of gift giving from various perspectives.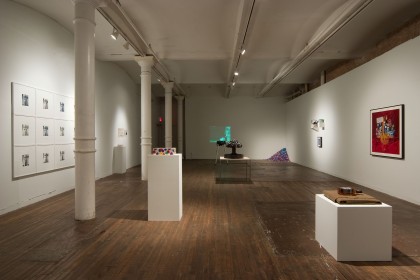 Installation view
There is Waters and his photograph of a pathetic, grotesque gift basket, containing stink bombs, a coupon for the Betty Ford Clinic, a Yanni CD, Preparation H, a carton of high nicotine cigarettes and various packaged goods for the carelessly obese.
Also funny in its hovering, threatening presence is Gygi's Christmas Tree, all silver sharp edges hanging like a slapstick stalactite or a missile-toe above our heads.
On the other side of the sincerity spectrum is a candy spill by Gonzalez-Torres, axiomatic in its iconography as "gift", although I would question whether this was the artist's original impetus. (I find that G-T's work deals with issues of choice and community and mortality rather than with gift exchange.)
Durant's installation continues his crusade against the betrayal of Native Americans by the greed and duplicity of the white man. A folded blanket and whiskey bottle invokes the U.S. Army's spread of smallpox and drunkenness among native populations during the early days of manifest destiny.
Perret also confronts ironies of history with an "atomic cake" shaped like a mushroom cloud. Apparently just such a cake was baked to commemorate the successful H-bomb test over Bikini Atoll.
Kelley contributes a pile of iron-on decals for a t-shirt. They have a back story: he once gave the image, of two hearts pierced by a dagger, to a friend for private publication in a book, only to later see it used publicly and commercially.
Robinson creates a "sculpture" for the show that resembles a gift wrapped birthday present. Rosenberg has a similar approach, although her "present" is rendered as a large color photograph.
Fleury submits a stuffed animal wrapped in clear plastic, her girly take on Valentine's Day sentimentality and commodity culture. Shaw is represented with several works on paper, including one of his thrift store finds: for a "world famous" brand of fruitcake.
Eichhorn advances an "interactive" piece, with the public encouraged to bring gifts they have received (but not used) and add these to a growing pile in the gallery. These are intended for re-distribution among the participants on the last day of the show.
Ledare is allowed two pieces. Both orient gifting within the family: a projection of porno footage that his mother gave him for use in an artwork, and a series of documents that promise to gift MoMA upon the death of his grandfather.
In a similarly autobiographical work, Calle contributes a large upright glass case, with lots of shelving, that displays the object accumulation of one of her hermetic research projects: a piece from 1980 entitled The Birthday Ceremony.
Also in a textual, conceptual vein is Green's welcome sign in Esperanto. McCollum has one of his "Thanks" paperweight multiples displayed in a vitrine that also contains editions by Lawler and Graham. Lewitt contributes several book cover pieces, From A to Z and Back. (I suppose that "back" somehow connotes "regift" to Miller.) And Weiner, not unexpectedly, inscribes a gnomic phrase directly on the wall: "Put Wheresoever".
But as indicated earlier, the writing was already on the wall in this multi-valenced, intellectually scattershot curation, which seems to spiral off in so many directions as to finally arrive nowhere at all. But as an autobiographical effort, with Miller the ultimate gifter/giftee, acknowledging his support structure and symbolically returning the accumulated favors, this exhibition makes perfect sense. It is Miller's metaphorical exorcism of his fellow travelers and enablers, both institutions and individuals, which make his life in art possible.
To John and to SI: Please accept this text as my gift, or even my regift.